Recipies
& Suggestions

Discover recipes that bring out the flavour and quality of the meat.
Selected fresh ingredients, especially herbs, and perfect cooking are the secrets of bringing out the flavour and quality of the meat.
We've cooked, tasted and propose…

Grilled T-bone with Sweet-Hot Pepper Sauce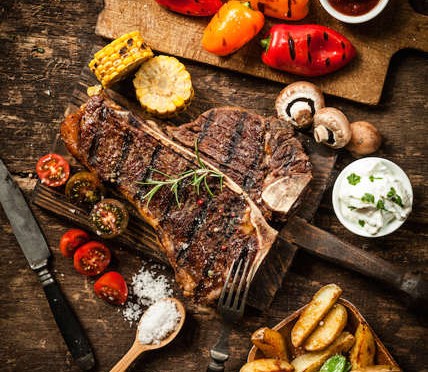 Ingredients
1/4 cup canola oil
6 cloves garlic, peeled
2 tbsp. olive oil
1 1/2 tbsp. finely chopped parsley
1 tbsp. finely chopped oregan
1 tsp. fish sauce
4 pickled Calabrian or hot cherry peppers, seeded
4 pickled sweet cherry peppers, seeded
Smoked sea salt and seaweed salt, or kosher salt, to taste
Freshly ground black pepper, to taste
1/2 lb. dry-aged beef fat, trimmed
1 (24-oz.) bone-in prime dry-aged T-bone steak
Preparation time: 20 minutes
Cooking time: 5 minutes
Serves 2 persons

INSTRUCTIONS

1. Simmer canola oil and garlic in a 1-qt. saucepan over medium heat until garlic is tender, 4-6 minutes. Strain, discarding oil, and purée garlic in a food processor until smooth. Add olive oil, parsley, oregano, fish sauce, peppers, salts, and pepper; pulse into a thick sauce.
2. Heat a charcoal grill or set a gas grill to high; bank coals or turn off burner on one side (see How to Cook on a Grill). Grill beef fat, flipping once, until slightly charred, 2-3 minutes; transfer to a 10″ ovenproof skillet and place on grill. Cook until fat is melted, 20-30 minutes.
3. Season steak with salts and pepper; grill, flipping once, until browned, 6-8 minutes. Using a brush, baste steak with rendered fat; continue to grill, flipping and basting as needed, until slightly charred and cooked to desired doneness, 6-8 minutes for medium rare or until an instant-read thermometer reads 125°. Rest steak 5 minutes; serve with sauce.